I tried an experiment on Facebook. I stated a riddle/challenge: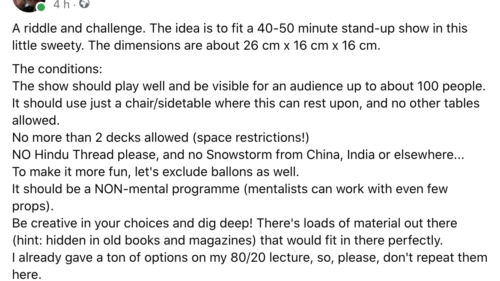 And this is the bag I was talking about: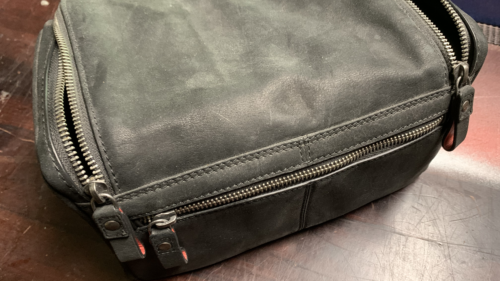 I gave a couple of suggestions. Amazingly, within a few hours a lot of comments came together, and I want to share some of he results here. With all these suggestions, it shouldn't be difficult to put such a programme together. At least, a good starting point.
$11 Bill Trick
Balls & Net Routine
Bill in lemon/kiwi/orange
Brainwave Deck
C&R Rope (or another great rope routine, like George Sands', Richard Sanders)
Card on Ceiling
Card Silk (Tamariz)
Card Stab
Cards Across
Chop Cup
Color Changing Silks
Copper/Silver Transposition (Jarrow)
Hot Chairs
Jumbo Card Monte
Linking Fingerrings
Malini Egg Bag
Miser's Dream
Multiple Revelation (selected cards)
Needle/Razorblade Swallowing
NEMO 1500 (Johnny Thompson)
Paper Hat Tear
Paper to Money (Pat Page method)
Patrick Page Card to Wallet Routine
Professor's Nightmare
Ring and Rope Routine (Williamson)
Salt Pour
Sidewalk Shuffle (Martin Lewis)
Silk in Apple
Silk in Marker
Silk to Egg
Six Card Repeat
Slydini Silks
Son of the Morning (Fred Lowe)
Stand-up Sponge Balls Routine
T&R Newspaper
T&R Newspaper, Tissue Paper
Thimble Manipulation
Three Fly (with Dollar sized coins)
Thumb Tie
Thumbtip routines
Vanishing Cane in Newspaper (Kaps)