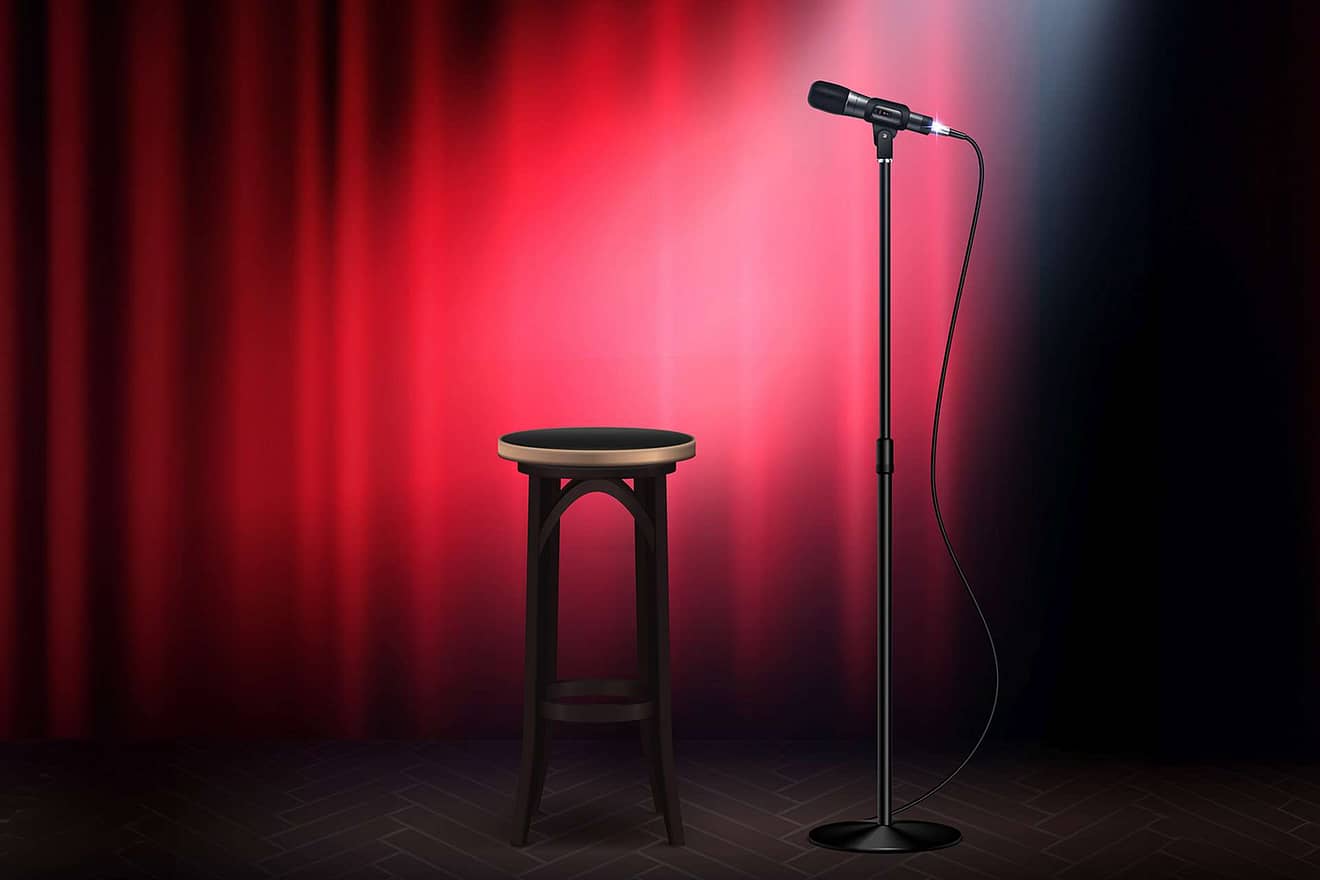 The title says it all. But it does­n't mean that you should rip punch­line after punch­line while per­form­ing magic (although of course you can do that). Rather, I mean the stage set-up or the per­form­ance area and how to organ­ise your props so that you can per­form the whole act stand­ing up at the micro­phone stand.
The goal is clear. A micro­phone stand to which I have attached a few props that enable me to per­form a show that lasts about forty minutes. And that on the smal­lest plat­form, pos­sibly sur­roun­ded by spectators!
The microphone stand
This is the most import­ant part of the set-up, as it has (besides the micro­phone) a small table top and a hook for a paper bag to hold props.
Of course, work­ing with a stand micro­phone requires prac­tice, but the effort is worth it, because you are free of trans­mit­ters, receiv­ers and head­sets. Another advant­age is that a wired micro­phone is less sus­cept­ible to inter­fer­ence. In com­bin­a­tion with one of the mod­ern loud­speaker combi-boxes, you have your com­plete sound equip­ment, includ­ing back­ground music, com­pactly with you and are not depend­ent on the build­ing ser­vices. The ideal solu­tion for smal­ler per­form­ances at wed­dings or sim­ilar events.
The tabletop
Mine is made of 4 mm ply­wood, which I covered with black felt. I prefer the round shape because then I don't get stuck at the corners and can move around the micro­phone stand bet­ter. There is a slightly lar­ger hole in the plate (there could be two) into which I can put, for example, two polycar­bon­ate pint glasses stacked inside each other. With this I can per­form a stand-up ver­sion of the map walk or other tricks with glasses. The plate is attached to the stand with a glass holder for micro­phone stands (music store).
The paper bag
This serves as a stor­age place for lar­ger props and at the same time as a col­lec­tion con­tainer for used props. I got myself a nice paper bag and rein­forced it with card­board on the inside. I made sure that it could be fol­ded flat to save space in the suit­case. It's more dur­able that way and it's easier to add a few com­part­ments to keep the props reas­on­ably tidy.
This bag hangs from a head­phone bracket that you can attach to a tri­pod. You can get head­phone hold­ers like this (and a decent micro­phone stand) at any well-stocked music shop.
The bull­dog clip
This is also very easy to attach to the micro­phone stand and is very prac­tical if you want to place a large envel­ope with a pre­dic­tion on dis­play in a clearly vis­ible place.
Suggestions for effects
By the way, I recom­mend my work­book 80/20 for this, in which you will find over a hun­dred sug­ges­tions for effects with the simplest props that take up little space but are still vis­ible to many audi­ence mem­bers and have a good effect.
Here are a couple of sug­ges­tions to get you started:
Dis­ap­pear­ing micro­phone (Finn Jon)
Cut and restored micro­phone cable
Three ring routine (or Dai Ver­non Sym­phony of the Rings)
Com­edy Prediction
Chinese Sticks
Torn and restored newspaper
Rope routines
Bank­note in lemon
Egg bag
Invis­ible Deck
Ring on stick
Ring Box (or ring in nest of bags)
Water in Newspaper
Super­quiz (Bor­etti)
Torn & restored tis­sue paper with mock explan­a­tion (JUNO)
Silk in apple (de Cova)
Express card trick (de Cova)
There are so many tricks that can eas­ily be per­formed stand­ing at a micro­phone stand and can fill a small stage very well.