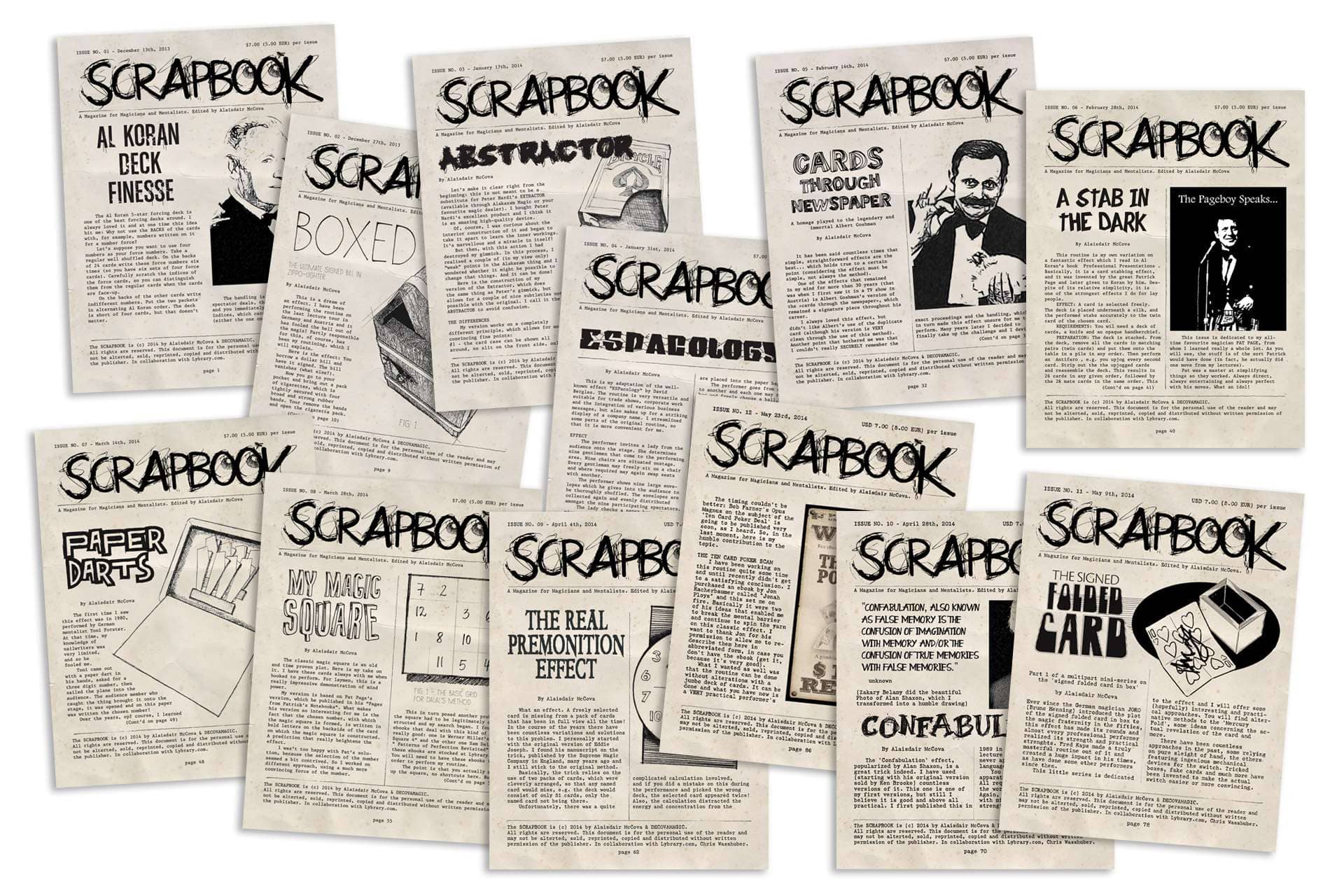 I cre­ated and pub­lished SCRAPBOOK magazine in 2014 and it con­tains some fas­cin­at­ing mater­ial, cov­er­ing close-up, stand-up and a lot of my thoughts on magic. It is cur­rently on hiatus but will be back in print at some point in the future.
Ori­gin­ally sold for US$7.00 per issue. For a lim­ited time, you can get all the issues for a bundle price of only 55.00 Euros.
You'll receive a .zip file con­tain­ing all issues from no. 1 to no. 12.
PDF, down­load. Eng­lish language.
55.00 Euros
(down­load)

Here are the detailed contents:
ISSUE 1
AL KORAN FINESSE — An addi­tional idea for the well-known Al Koran 5‑star for­cing deck which enables you to per­form a baff­ling ver­sion of the "Oscar" card trick.
THROUGH THE LOUPE — The fast­est load­ing tech­nique for a ring in a sealed envel­ope. This one has fooled more than one magician!
CLIPPED OUT — A concept for a head­line pre­dic­tion or a live pre­dic­tion. Some subtle think­ing behind this one.
MAGIC VS. MUSIC — A thought pro­vok­ing art­icle on prac­tise, per­form­ance and more. Music is com­pared to magic and this will get you star­ted think­ing dif­fer­ent about our art.
ENTHYMEMATA — Vari­ous thoughts, tips and hints.
1st edi­tion 2014, 8 pages.
word count: 3684 which is equi­val­ent to 14 stand­ard pages of text
ISSUE 2
BOXED — A signed bill ends up in the interior of a lighter, which has been inside a cigar­ette packet. This one has fooled every­one on my last lec­ture tour. Per­fect for table-hop­ping, instant reset and easy to do. [Note: This routine was inten­ded to be pub­lished as a sep­ar­ate eBook for a much higher price than this issue of Scrap­book. How­ever, for com­plete­ness sake I decided to add it here.]
TOTALLY STONED — A men­tal routine based on a Max Maven idea. I changed the routine, method and added an addi­tional cli­max to it. Very power­ful and easy to do.
ENTHYMEMATA — Thoughts, tips and hints.
1st edi­tion 2014, 6 pages.
word count: 2359 which is equi­val­ent to 9 stand­ard pages of text
ISSUE 3
ABSTRACTOR — My take on the "Extractor" gim­mick which is com­pletely dif­fer­ent. The deck can be fanned, spread and quite freely shown. The spec­tator him­self can insert his card into the case. The case is shut and rub­ber bands are placed all around the case (!). You can show the case from all sides — all looks per­fect. You put the deck in your pocket and imme­di­ately have the selec­ted card at your dis­posal! Easy to con­struct in less than half an hour with only one deck used.
TAMARIZ MEMO DECK — Here I start with a five part "course" on the mem­or­iz­a­tion of this bril­liant stack. It's fun to read, even more fun to learn and above all: after only five ses­sions you will know the stack by heart. I explain my method of assign­ing the num­bers to the cards and vice cersa. Quite a few people here in Ger­many and Aus­tria have used this method and were very happy (and successful).
FLUKE II — A strong vari­ation on a trick by Wayne Dob­son. It is a sort of ACAAN effect and done with unpre­pared cards. No sleight of hand and you end with two per­fectly stacked decks to continue.
MAGI­CIAN's FOOLER — Try this one at the next ses­sion on your magic friends and enjoy the puzzled faces. A Tam­ariz routine done com­pletely dif­fer­ent, and maybe even the Mas­ter would be taken aback see­ing it the first time (well, I did­n't try it on him, but that fantasy sounds too good).
1st edi­tion 2014, 10 pages.
word count: 4544 which is equi­val­ent to 18 stand­ard pages of text
ISSUE 4
The new issue is packed with work­able stuff. This time, you'll find also some­thing for the stage magi­cian! Here the contents:
ESPACOLOGY 2 — My take on a routine by David Ber­glas. This one is inten­ded for stage/plattform use and can be made to play really big. Mul­tiple pre­dic­tions lead to a knock­out cli­max incor­por­at­ing the name of the com­pany you are work­ing for.
GIANT CARD TO SILK — This is truly the most visual and baff­ling trans­form­a­tion of a giant card into a silk. It looks like trick pho­to­graphy and you end clean. I describe some tips for the table-hop­ping magi­cian as well.
TAMARIZ MEMO DECK DAY 2 — The second part my little course on the mem­or­iz­a­tion of the Tam­ariz stack. More cards are added to the stock!
ENTHYMEMATA — Here I have hid­den a gem. It is a link to the print­ing tem­plates for a mar­velous trick by Phil Gold­stein, which I reworked a bit. Finally, a real pleas­ing set of the neces­sary cards. Just go to the inter­net address I give you in the art­icle, down­load, prin­tout and perform!
1st edi­tion 2014, 7 pages.
word count: 2670 which is equi­val­ent to 10 stand­ard pages of text
ISSUE 5
In this issue, I go into great detail for my ver­sion of the routine "Cards Through News­pa­per", an effect which was pop­ular­ized by the great Albert Gos­h­man in his pro­fes­sional act.
CARDS THROUGH NEWSPAPER — I taught this ver­sion to Doc Eason years ago. Here is the com­plete descrip­tion with all the details (for you, Doc!). Doc told me that he showed the routine to Eric Mead and Eric had some nice words for it, means, he liked it. Four cards (any four cards, signed or unsigned) pen­et­rate a sheet of news­pa­per one at a time. This is a work­er's ver­sion, no duplic­ates, pre­par­a­tion or any­thing. You can per­form this routine impromptu and that's the real value.
As well, I stream­lined the hand­ling. At the end of the routine you will find a link to a video­clip of the routine, where everything is explained visu­ally, without words.
PETALOGICAL ASSEMBLY — Based on John Guesta­fer­ro's won­dert­ful "petal count dis­play", I rearranged DARYL's "Jolly Jump­ing Jokers" routine (also known as the "Psy­cho­lo­gical Assembly") using John's move. I always loved the routine, but get­ting into the neces­sary set-up caused me some head­aches. With this hand­ling, everything is solved and the trick could­n't be more dir­ect and easy.
TAMARIZ MEMO DECK DAY 3 — The con­tinu­ation of my little series on mem­or­iz­ing the Tam­ariz stack.
ENTHYMEMATA — Here I tip the work­ings of my ver­sion (solu­tion) to the Koran Gold Medail­lon effect. The three digit num­ber is engraved into the back of the medail­lon. I don't go into the details of con­struc­tion (which prob­ably will be in a future issue), but then you get an idea of what it is all about.
1st edi­tion 2014, 8 pages.
word count: 4180 which is equi­val­ent to 16 stand­ard pages of text
ISSUE 6
This issue deals with the kind of tricks Pat Page would have loved and per­formed. There­fore it is ded­ic­ated to him. Here the contents:
STAB IN THE DARK — A card stab routine, where you stab (under­neath a silk) into the deck and hit the mate of a spec­tat­or's selec­ted card.
SIMPLE MISRES DREAM — This gim­mick enables you to do a per­fect coin catch without any sleight of hand! Can be applied to many other things as well.
POOR MANS RINGFLIGHT — The easi­est ring­f­light with an unpre­pared leather key case. This is really for the work­ing per­former and per­fect for table hopping.
GAELIC SWITCH — My util­ity switch which I developed more than 30 years ago. It is so con­vin­cing that even Pat Page used it in his work after see­ing it in my lec­ture (which I am really proud of).
TAMARIZ MEMO DECK DAY 4 — The next step in my little course in mas­ter­ing the Mnemonica.
1st edi­tion 2014, 8 pages.
word count: 3260 which is equi­val­ent to 13 stand­ard pages of text
ISSUE 7
PAPER DARTS — This is the routine I've kept back. You stand on stage with a fol­ded paper dart. Spec­tat­ors decide on a three digit num­ber. The dart is thrown into the audi­ence and the audi­ence mem­ber catch­ing it brings it to the stage. The paper dart is opened and on it is PRINTED in big bold let­ters the chosen num­ber! NO nail writ­ing or what­so­ever, the method will make you laugh. Com­pletey "out-of-the-box" think­ing here. Hope­fully, only a few magi­cians will go into the troubles mak­ing this one up.
HOPA-GIMMICK — This can be made up with­ing minutes and enables you to force two cards as con­vin­cingly as pos­sible. The dif­fer­ence is that these cards have never been in the deck. I describe my stand-up ver­sion of card to wal­let, which is abso­lutely easy to per­form but baffling.
Two spec­tat­ors merely think of a card. Your wal­let has been on the table the whole time in full view. The thought of cards van­ish from the pack and are found in the zippered com­part­ment of the wal­let. This is repeated, but this time with the cards signed by the spec­tat­ors. The first part of this routine can be done with an unpre­pared wal­let, even with a spec­tat­or's wallet!
TAMARIZ MEMO DECK DAY 5 — This ends our little course in mem­or­iz­ing the Tam­ariz stack. At the end, there is a price­less hint given on how to prac­tice the stack. This will boost up your memo work in light­ning speed.
ENTHYMEMATA — Learn a little secret I held back for a long time con­cern­ing the use of a key card that is so bold but so good. It makes work­ing with a key card a breeze, no for­get­ting any­more or dif­fi­culties in spot­ting it. The speed with which you handle a key card in the future will fool all the magicians.
1st edi­tion 2014, 7 pages.
word count: 2654 which is equi­val­ent to 10 stand­ard pages of text
ISSUE 8
MY MAGIC SQUARE — I worked a long time to get together my "per­fect" magic square. This one is dif­fer­ent, because on the back of the card, where you make the grid, the square is pre­dicted in big bold let­ters! A very good num­ber force is described that has been long time under­ground and that can be used in many other effects as well. I always carry this one with me in my wal­let and it has never ceased to really amaze people. [Note: In order to per­form this magic square effect you will either need E‑Z Square 4 by Werner Miller or Pat­terns of Per­fec­tion Revis­ited by Sam Dalal.]
HOFZINSER IN MY WALLET — A very con­vin­cing and bold "card to wal­let". NO palm­ing what­so­ever. Based on ideas by Peter Duf­fie and Chip Klei­man. I took the ori­ginal routine (which never was a card to wal­let) and com­pletely reworked it. Also I added an intriguing present­a­tion theme around Hofz­in­ser. You will love it!
PREDICTION FROM BOMBAY — This is a sub­tlety for a routine for the "Open Pre­dic­tion". I added an import­ant little sub­tlety which enables you to do a guar­an­teed invis­ible full deck switch.
ENTHYMEMATA — Learn the way Ger­man full-time pro­fes­sional Marc Gettmann uses the the HOPA-gim­mick described in issue #7. This is a VERY cool idea that could lead to much much more.
1st edi­tion 2014, 7 pages.
word count: 3414 which is equi­val­ent to 13 stand­ard pages of text
ISSUE 9
THE REAL PREMONITION — My take on Eddie Joseph's fam­ous Pre­mon­i­tion effect, which elim­in­ates all cal­cu­la­tions through the use of a dev­il­ish "prompter list", which is in full view but can't be seen. Also, in my ver­sion the freely chosen card (which is the only card miss­ing in the deck) is pre­dicted in a let­ter in a sealed envel­ope! For the gim­mick you get the print­ing tem­plates which can be found at the end of the PDF.
REVERSE TAKE — The most con­vin­cing "take" with a thumb tip pos­sible. This one will fool even the experts, guar­an­teed. It will take some time until you get this down, because it works com­pletely against any logic — in your brain and that of the spectator's.
WINDOW ENVELOPE — This should be the high­light for all men­tal­ists. It is my ver­sion of the win­dow envel­ope with a BIG dif­fer­ence: the envel­ope is SEALED and has no win­dow. Des­pite the fact you can write any­thing onto the sealed paper inside. Com­pletely prac­tical method that is really easy to do.
ENTHYMEMATA — Hear my thoughts on bil­liard ball routines.
1st edi­tion 2014, 8 pages.
word count: 3261 which is equi­val­ent to 13 stand­ard pages of text
ISSUE 10
CONFABULATION — The routine I have been doing since the 80s (oh my gosh!). Out of the need to cre­ate a DIY ver­sion of the mar­keted effect of Alan Shaxon, I devised this baby. It's easy to use, prac­tical and you don't need any Kaps wal­let for this. At the end, everything can be left with the spectators.
SOAP BUBBLE CARD — Finn Jon is a genius with both threads and his omni-present soap bubbles. In 1987 I cre­ated a rev­el­a­tion with a smoke filled soap bubble that is really eye candy and sur­pris­ing. A signed selec­tion appears with the burst of a soap bubble. Easy, simple and visual. A truly unusual effect, if you (like me) fancy soap bubbles!
ENTHYMEMATA — My usual quick thought on this and that.
1st edi­tion 2014, 8 pages.
word count: 2481 which is equi­val­ent to 9 stand­ard pages of text
ISSUE 11
This time I start a little series on the "signed fol­ded card in box" plot. The effect that a signed card ends up fol­ded in a little box is a clas­sic and has been per­formed by many top pro­fes­sion­als and ama­teurs alike. I am a great lover of this trick and accu­mu­lated quite a lot of meth­ods and ideas con­cern­ing this top trick. These I will share with you through my Scrap­book magazine. This is the first issue deal­ing with this highly inter­est­ing topic. After a lengthy and detailed dis­cus­sion on my opin­ions, strategies and thoughts about this effect, learn:
THE WILD WILD WEST FOLD — A novel method of fold­ing the card into quar­ters in the course of a single riffle shuffle! A 3‑second-card fold in full view that can eas­ily replace the Mer­cury Card Fold.
PRINGLES — When you try out this one, you WILL laugh at the sheer sim­ple­ness and dir­ect­ness of this card (or bill) into a sealed Pringle chips can. This is really for the worker — per­fect for trade show and par­lour magic.
ENTHYMEMATA — My usual thoughts on this and that.
1st edi­tion 2014, 8 pages.
word count: 3905 which is equi­val­ent to 15 stand­ard pages of text
ISSUE 12
This issue deals with two routines. The first one is de Cov­a's ver­sion of the fam­ous 'Ten Card Poker Deal'. This is a routine in four phases and makes use of a full deck, which is shuffled and cut. Each phase is build up and more chal­len­ging. All the time the spec­tator wins against you and he has no idea how. With all phases the spec­tator makes abso­lute free decisions and the cli­max is an over­whelm­ing Royal Flush of Spades in his poker hand. Easy to do and entertaining.
The second routine is called 'The Green Card' (has noth­ing to do with Len­nart) and it was one of the main routine in Alex­an­der's 'Mis­teir' lec­ture. It is a baff­ling and enter­tain­ing card routine, com­bin­ing three dif­fer­ent effects that lead into each other in a logical way. Cards trans­pose mul­tiple times and for the fin­ish, a signed selec­tion ends up in a wal­let. Everything is motiv­ated and logical and the last phase comes totally unex­pec­ted. Alex­an­der has given also his pat­ter sug­ges­tions, which is import­ant and makes the trick enter­tain­ing. Rel­at­ively easy to do, only basic sleights are used.
1st edi­tion 2014, 8 pages.
word count: 4399 which is equi­val­ent to 17 stand­ard pages of text